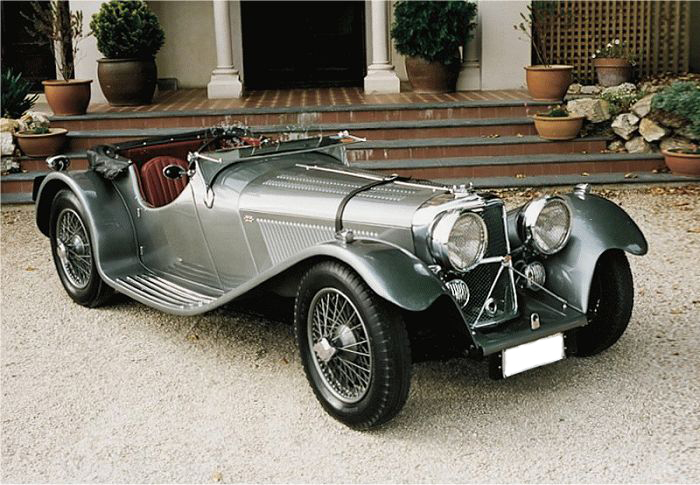 SS100 Jaguar Replica by Finch Restorations
(CC BY-SA 3.0 AU Finch Motor Co.)
So, in keeping with Sir William Lyons philosophy, we have reborn this magical car to his original legendary specification.
As motoring enthusiasts, like yourself, we were captivated by the elegance and design of vehicles of this era and to that end, we have endeavoured to recreate these vehicles as faithfully as possible.
Very little has been compromised to the original specification and we believe that these handbuilt cars provide exceptional, and perhaps the finest, old-world sports car driving pleasure.
To you, we extend a cordial invitation to contact us for more information.
SS 100 Replica Component Specification
The chassis is fabricated as designed by Rubery Owen, using Jaguar's original factory drawings. Front and rear axles are period Jaguar assemblies, kindly donated by deceased SS and Mk 4 saloons.
Engines (2.5 and 3.5 litre) and gearboxes are also original Jaguar units. All original components are painstakingly stripped and restored in our workshops to their former gory. Original SS components are procured wherever possible and, of course, when they are available.
Patterns and jigs have been constructed to form and or cast the necessary windscreen stanchions, headlight bars, hood bows, etc.
The body frame is of timber construction, clad in aluminium. Guards are also of aluminium construction.
Lucas electricals and original specification looms are used throughout.
The interior is trimmed to the original specification.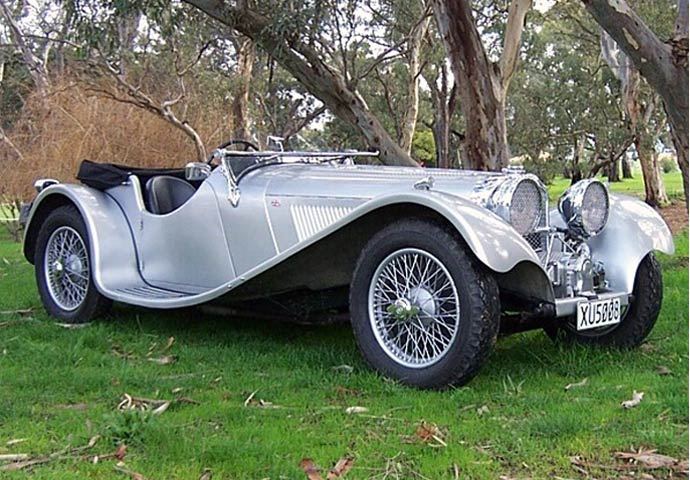 Finch 1939 SS100 Jaguar Replica
(CC BY-SA 3.0 AU Finch Motor Co.)