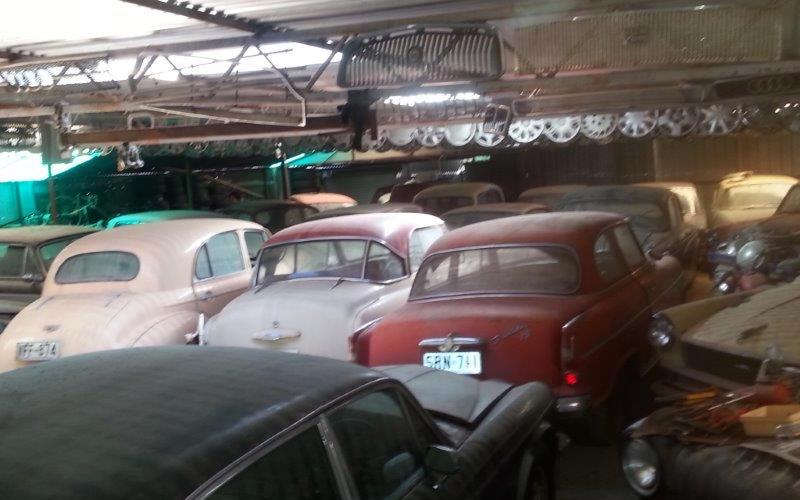 Antipodean Treasure Trove of Cars
A large and eclectic collection of around 300 cars is being sold in South Australia. The cars originate from many countries, with British models dominating – including a number with Australian coachwork, such as an ultra-rare Ford 105E convertible. There are a few Edwardians, including the remains of the unique c1912 Dodson, plus a c1910 De Dion-Bouton, which has at some time has been re-bodied and restored.
There is also an assortment of vintage models, including the body from a Model T Ford Speedster that once circumnavigated Australia. This has been signed by the great pioneer racer, Barney Oldfield. The main part of the collection comes from the early classic period and includes examples of many 'bread-and-butter' cars.
Old age means that the collection's owner will not be able to restore the vehicles as he had intended. Having been kept mainly under cover, most are still entirely restorable.
Garrie Hisco has been appointed to sell this gem of a collection. Talking about the collection, he said: "It is fantastic in that it is so eclectic. The owner has collected from far and wide, with a keen eye for the unusual, as well as classics from the '50s and '60s. The collection has been tightly held for over thirty five years and only a few people like Ray Finch have known about it. It may be the last of big hoards like this one."
It is interesting to note that there is a selection of racing and track cars, including a Ralt built by Ron Tauranac after he parted from Brabham, as well as an Elfin and other Australian formula cars. There are also at least three Nimbus, which were originally built at Whitchurch, Hampshire, plus the moulds for their bodies.
The collection is spread over three floors of undercover space, with more outside in the open. An associated amassment of parts is also exhaustive, with headlamps, bumpers, gearboxes, motors, chassis and wheels – including many from the vintage and veteran eras - stacked to the ceiling. In most cases there is no room between the cars to enable photographs to be easily taken.
Finch Restorations is supporting the owner and Garrie Hisco by promoting the trove, but is not otherwise affiliated with Garrie or the owner.
For vehicle sales enquiries, please contact the agent, Garrie Hisco, via:
email This email address is being protected from spambots. You need JavaScript enabled to view it.
Mobile (Australia) 0412 178 026
Mobile (International) +61 412 178 026
Please note, vehicles are in a shadow zone and phone connection difficulties may be experienced.
SALE ENDED. Sorry the sale of vehicles has now concluded. Congratulations to all the successful purchasers.
For restoration enquiries, please contact Finch via
email This email address is being protected from spambots. You need JavaScript enabled to view it.
Phone (Australia) 08 8398 2332
Phone (International) +61 8 8398 2332
More photos at this Facebook link.
Catalogue
Please note that the following numbers are not static 'lot numbers'. As new vehicles are identified in the trove and added alphabetically to the list, or corrections made, vehicles change position compared to the numbers.
Alfa Romeo Sports Spider square back
Alfa Romeo GTV
Alfetta 2 Iitre 4 door
Alvis pre-war 4 door sedan (very pretty)
Armstrong Siddley
Armstrong Siddley Whittley excellent condition
Austin 1800
Austin 1938 four door vented bonnet all original condition

Austin 8 Roadster

Austin A30
Austin A30
Austin A40
Austin A40 4 Door
Austin A40 4 Door
Austin A40 4 Door
Austin A50
Austin A50
Austin A60 Cambridge Station Wagon
Austin A60 Pininfarina designed
Austin A90 3 litre
Austin Atlantic for restoration straight original condition
Austin Atlantic full resto required
Austin Can
Austin Farina
Austin Freeway
Austin Freeway Pininfarina designed 1960s
Austin Seven Sports Gordon England racing body 75% restored
Austin Westminster
BMC Mini Moke
BMW 530i
BMW 633
BMW 733i
BMW 735i
BMW Fraser Nash 2000 TI
Bogward Isabella TS
Borgward Isabella TS excellent original condition
Buick 1922 buck board original
Cadillac 1929 Cabriolet original condition for restoration 5.5 mtr
Cadillac Brougham Fleetwood
Chevrolet Corvette 1957 absolutely showroom condition
Citroen Palais
Citroen Palais
Citroen Palais topless
Daimler Limousine probably 1950s

Daimler vintage rolling chassis fitted early Rolls Royce engine

DeDion Bouton 1911 running condition

Dodson 1908 by David Brown (rarest car in collection)
Elfin Formula 2 with log books (Cooper / Poole built)
Eunos red
Fargo Truck
Fiat 124
Fiat 130 - six cylinder
Fiat 130 sedan
Fiat 803 GTE
Fiat V6 1980s
Fibreglass moulds racing cars & sports cars
Ford Anglia 105E very serious racer twin 45DCOE Webers; caged etc.
Ford Anglia 350 badge to front bonnet (?) panel van body/ute
Ford Capri bare rolling body
Ford Cortina
Ford Prefect pre 10S e (earlier body shape)
Ford Zephyr (late)

Gogomobile 2 door coupe

Goliath Kombi xpress

Hillman Hunter
Hillman Minx
Hillman Minx
Hillman Minx 1960s
Hillman Minx Auto 1960s
Hillman Minx Auto 1960s
Hillman Minx Californian (prettiest car in collection and very, very rare)
Hillman Minx pre-war (very nice)
Hillman Super Minx
Holden FE Special
Holden HR
Honda 600 full resto required
Hudson 1925 complete running gear and cowling all original needs
Hudson Straight Eight pre-war 4 door sedan (monster)
Humber pre-war 4 door big sedan
Humber pre-war four door
Humber Snipe 1960s
Humber Snipe 1960s
Humber Super Snipe 1960s
Humber Super Snipe 1960s
Humber Super Snipe 1960s
Jaguar Mk10 auto triple carbs
Jaguar Mk10 excellent condition (includes original sun blinds!)
Jaguar Mk2
Jaguar Mk2
Jaguar Mk2 - 3.4
Jaguar Mk2 - 3.4
Jaguar Mk2 - 3.4
Jaguar Mk4 Rudge Whitworth wheels Mk1
Jaguar Mk4 short nose 4 cylinder
Jaguar MK7
Jaguar Mk7
Jaguar Mk7 auto
Jaguar S type
Jaguar sixties racer with log books Zagato styled coupe
Jaguar Sovereign
Jaguar XJ6
Jaguar XJ6
Jaguar XJ6
Jaguar XJ6
Jaguar XJ6 (late)
Jaguar XJ6 Series 2 V12
Jaguar XJS V12 auto
Jaguar XJS V12 auto
Jawa café racer fifties
Jensen Interceptor
Jowett Javelin restored condition
Lanchester limousine (Leda)
Lanchester pre war
Lanchester pre-war centre lock wire wheels original condition (nice)
Lanchester pre-war sedan
Lancia early 70s boxy similar Guilia Alfa
Lasos sports car restorable BMC motor
Lotus Elite original condition (excellent)
Maserati Biturbo
Mbridge
Mercedes 280SEL
Mercedes 380 SEL
Mercedes 560 SEL
Mercedes 8enz 5320
Mercedes Benz 280E
Mercedes Benz 450SLC
Mercedes Benz finny 220s
Mercedes roundy
MG Magnette ZA
Mini clubman
Model T ford around Australia historic car boat-tail (Barnev Oldfield)
Morris 1100
Morris 6 – like a Wolseley; same body (large Oxford)
Morris A50 1960s Apanel Van rebadged Austin British import no rust
Morris Commercial Truck
Morris Cowlev bullnose chassis all running gear no body
Morris Elite
Morris Isis

Morris J van sliding doors

Morris Major
Morris Major
Morris Major
Morris Major
Morris Minor
Morris Minor 1000 very original
Morris Minor Low Light 1952
Morris Nomad
Morris Oxford
Morris Oxford
Morris Oxford
Morris Oxford late 1950s
Morris Oxford Pininfarina
Morris Oxford Station Wagon
MZ motorcycle
MZ motorcycle Trophy Sport single engine 47211484
Nash 1927 Doctors Coupe restored (almost)
Nimbus clubman sports car blue
Nimbus F2 car local history with log books
Nimbus Gullwing sports car red
Nimbus Le Mans sports car gorgeous includes moulds to make more
Nimbus roadster (parts car)
Nimbus roadster red
Nimbus Sports (parts car)
Nimbus Sports (parts car)
Overland Truck
Peugeot 403
Peugeot 404
Peugeot 404
Peugeot 404 ute!
Peugeot 504 ute
Peugeot 505 STI
Peugeot CX25 (maybe Citroen?)
Peugeot early fastback style ( 402?)
Pontiac Grand AM
Porsche 924
Ralt racing car formula 2 formerly 3000 Roberto Farina etc (log books)
Rambler 1909 running gear etc. body is wrong
Renault 10
Renault 1938 gorgeous resto complete
Renault 4
Renault 4
Renault 4 door sedan rare circa 1958
Renault 750 suicide doors
Renault 750 suicide doors
Renault Frigate good onr two others 1950s (?)
Renault Fuego early
Renault Fuego GTX 2 litre
Renault Fuego Mk2
Renault Gordini excellent original condition
Renault Panel Van early
Reo / veteran two blocks of two, poor condition, right hand drive
Riley 2.5 litre roadster
Riley 2.5 litre, poor condition, many parts
Riley 4/44 sedan 4 doors
Riley 4/4
Rolls Royce Silver Spirit long wheel base good condition
Rover 100
Rover 100
Rover 3 litre
Rover 3500 V8
Rover 75
Rover parts only not vintage
Rover V8 3500
Rover V8 3500
Rover Vanden PIas
Rover Vanden Plas
Rover Vanden Plas early one
Royale formula 2 racing car Open wheeler former champ car with log books
Singer early four door
Singer similar to a Rover 90 centre opening doors
Singer Special very pretty needs some fixing up but original.
Singer sports vintage special very nice aluminium body
Standard 10 (~1960, maybe late 1950s)

Sunbeam Motorcycle restored shaft drive circa 1930

Sunbeam Rapier nice fastback
Tekno hill-climb special chain drive Royal Enfield engine
Thames Ford Prefect 105 E
Toyota Corolla (probably an E20)
Triumph 2000
Triumph 2000
Triumph 2000
Triumph 2000
Triumph 2000 estate car very, very rare
Triumph Dolomite
Triumph Dolomite Sprint
Triumph Herald original
Triumph Mayflower
Triumph Mayflower
Triumph Sprint 900 Motorcycle beautiful
Valiant S Type
Valiant V series (square body shape)
Vangard 4 door 1960s/ late 1950s
Vangard ute 6 cylinder
Vanguard panel van ultra-rare spacemaster
Vauxhall Caleche
Vauxhall Caleche original condition
Vauxhall Cresta very good cond. All original. Gorgeous artistry styling.
Vauxhall Velox Caleche
Vauxhall Velox early
Vauxhall Velox early (2)
Vauxhall Victor
Vauxhall Victor 1960s
Vauxhall Wagon 1960s
Vintage guards (15)
Vintage headlight over 100 pairs drum, teardrop cone etc.
Volvo 242GT
Volvo 4 door 1970s
Volvo GLE 244
Warsaw limousine LHD - ex-Polish embassy circa 1950s
Willys shark nose sedan older resto
Willys sharknose sedan
Wolseley 24/60
Wolseley 6/99
Wolseley 6/99
Wolseley 6/99 larger oxford style body (UK Police Cars)
Wolseley 680
Wolseley OHC motor Oxford style body
Wolseley pre-war 18 H.P.
Zeta body only brand new
Finch Restorations: About Us
Founded in 1965 by Ray Finch, Finch Restorations is the premier provider of car restoration services in South Australia. We combine extensive marque experience with meticulous in-house skills including woodworking, part casting, and metalworking.