Finch Restorations History
Based on an interview with Ray Finch at Mt. Barker, Tuesday, 10 February 2015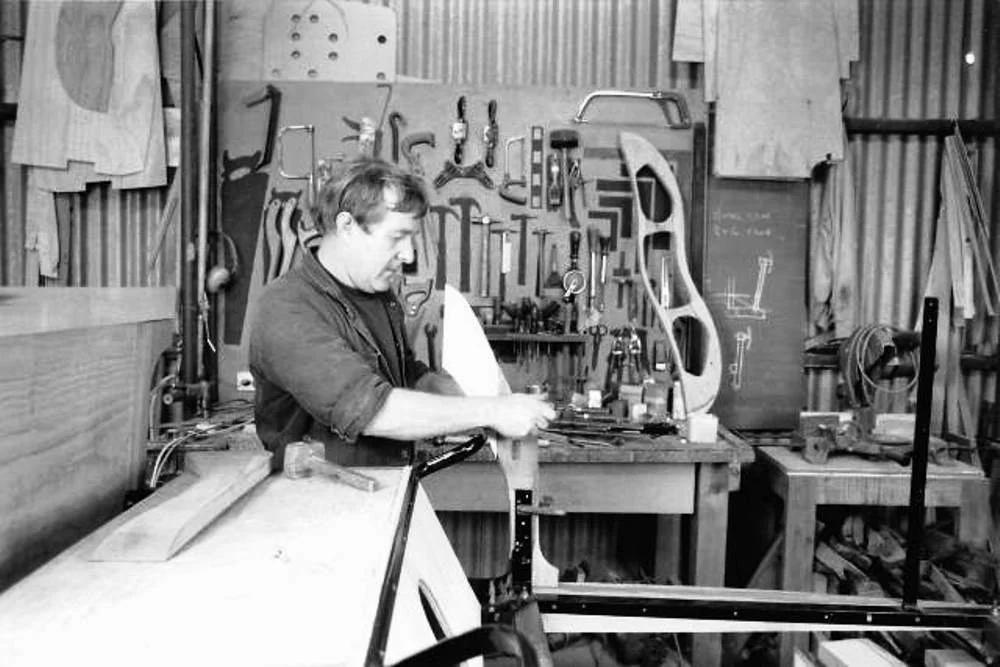 Finch Restorations history goes back to 1965 when Ray Finch established the business in Mount Gambier, South Australia.
Ray was born in England in 1941 and his family had migrated to Australia on the 'SS Cameronia' in 1951 when Ray was 10. Ray's father had been a driver for Allards in London after the Second World War; then became works tester for the Ford Motor Co., including their classic sports cars. These inspired Ray.
After leaving school, Ray undertook an apprenticeship with the General Motors Holden dealers in Mt. Gambier. Ray started off as a motor mechanic for two years and gained a good mechanical background. Ray then transferred to the panel shop, and quickly rose to become the work foreman.
When he was 21, Ray went to New Zealand for bike racing and obtained a small contract to race there with £10 appearance money plus any winnings. As money was getting a bit short, Ray took a job at a long established company called Newton King in New Plymouth. They were importing brand-new Triumph TR3's in 'knock-down' form, would put them together, paint them and finish them off.
Ray had a very good relationship with the English owner of the company. The owner told Ray that if he stayed with the company for another 12 months, he would pay all his expenses to get back to Australia. Ray obtained his first insight into coach-building at Newton King, where they made refrigerator-van bodies, and bus bodies. Here he learned to use an English Wheel metal-working machine to make corners for bus bodies. Many buses, in those days, had a wooden frame.
Ray moved back to Mt. Gambier in 1964 to work in a crash-repair and detailing shop. In 1965, Ray decided to go into business himself and established a crash-repair shop with a tow-truck on the road. Ray also joined the local Veteran and Vintage Car Club, and would do odd jobs for people. In 1966, Ray also joined another union when he married his wife.
"I could work long hours. Sometimes I would drive a tow-truck 300 miles from Mt. Gambier to Melbourne to pick up a crashed car. Once within radio distance would ring my wife to prepare breakfast then I'd go straight to the workshop to work on the vehicle I had towed."
A few short years later, Ray received an offer from the local Ford dealers to buy his repair shop. Ray accepted, and in 1970 he bought some industrial land on the edge of Mt. Gambier, and set up an all-purpose shop to do classic car work. He was getting a lot of work from Victoria but not a lot of work in Mt. Gambier, where people did not have the money to spend. He was working by himself while employing another man part-time.
Ray and his wife moved to the Adelaide Hills in 1985. He rented a workshop shed and a house at Echunga, opposite the Golf Club. At Echunga, he met Wayne Hocking who was making excellent antique furniture. They worked together as Finch & Hocking, but they weren't financial partners. The business grew from there, and they soon outstripped the workshop.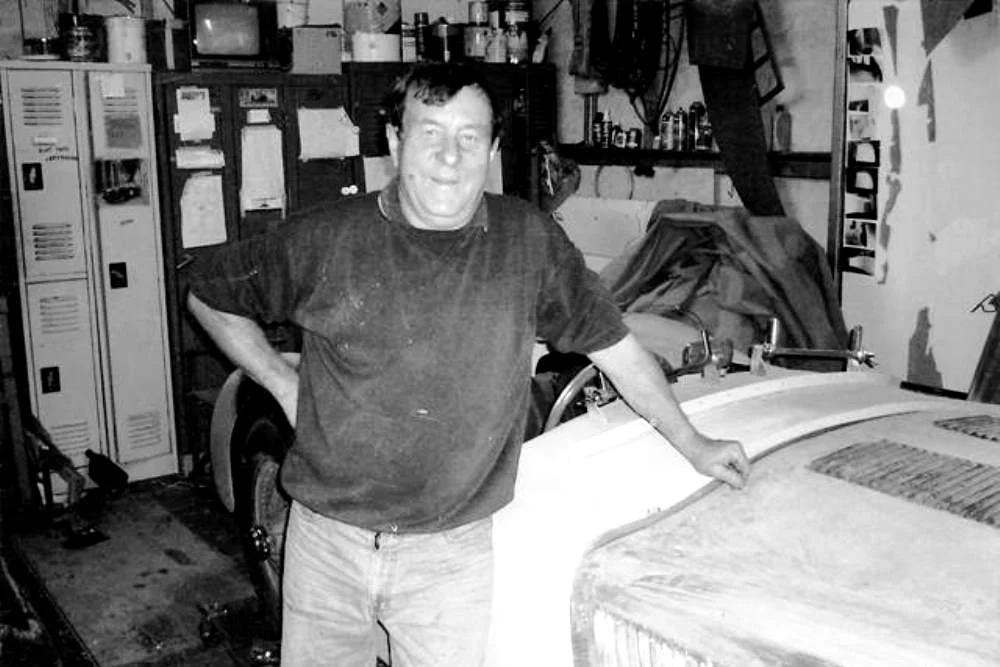 In the late 1980s they moved to Mt. Barker where they built a purpose-designed factory. Ray was now about 50 years old, while Wayne Hocking was about ten years younger.
In 1989, Ray advertised for a full-time employee and Colin Higgs, who had been in the industry at Woodside, replied to the advertisement and joined the company as Ray's first employee.
Colin, who today still works for Finch Restorations, has had a good association with Ray over the years. They travelled away together on many trips, with Colin being pit crew for Ray. All the people who worked for Ray are still friends.
At Mount Barker, the business soon established an excellent reputation for building MG T-type bodies; they built over 100 bodies all told. They thought they had plenty of room at Mt. Barker, but became deluged with work. They gradually employed more and more people to work with them.
In the car world, everybody knew Ray and knew about the business. They were approached by General Motors engineers, asking them to undertake re-work on Monaros. GM's dies and presses were misbehaving and panels were coming out the wrong shape. General Motors would send crates of panels up to the Mt Barker workshop, or employees like Colin would go down to GM's metal shop, and with their shrinking machines re-shape the panels.
Finch Restorations were also doing work for Mitsubishi. They did a lot of colour-check cars for them, and would paint upholstery, using spray. Mitsubishi designers would say "We want this pale green or yellow in here." Seats would be sprayed so that the designers could see what they would look like. They would be asked to cut a car down the middle, to produce a concept car that showed the motor-shaft cut down the middle.
"Blokes like me and Colin can be found overseas, but are thin on the ground in Australia. I was probably first to do this as a specialist business in South Australia. Some crash repair shops might paint up a car and sell it as a restoration … but its not. Most people who do this would be a hobbyist.
"The history of the business … it just evolved, became bigger and bigger and we earned a reputation for good work."